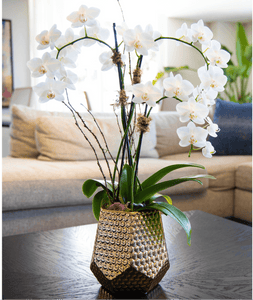 This beautiful Orchid is designed to be the centerpiece of your favorite space.
Dimensions
A reminder that not all Orchids are alike, depending on availability your arrangement can slightly differ from the photo.
Container: 9" Diameter  x 5" Height
Orchids: Up to 18" height.
Pick-up and Delivery
Our arrangements have a processing time between 3-7 days depending on the arrangement. Once an order is confirmed we will contact you to confirm a completion date based on availability.
 This item is only available for pick-up or delivery in the Miami Metro area.
Care Instructions
Orchids need to be watered once a week. Using a spray water bottle, apply 35-40 sprays of water on the bottom of the plant by the roots. You can also use two ice cubes per plant. Never spray the flower or the stem.  Once orchid flowers fall, cut the stem right below the last flower so that a new stem can grow with new flower buds. Do not put in direct sunlight.